Tracking and analyzing the true profitability of your WooCommerce orders is not possible if you're not including the cost of shipping. Most sites use a "Cost of Goods" plugin to analyze profit (sales less cost of goods), but this is not a true measure of profitability.  This WooCommerce Net Profit plugin suite has it all, with associating costs of goods to WooCommerce products and orders, and reading in true costs of shipping. You can have new powerful analytics right in your admin dashboard!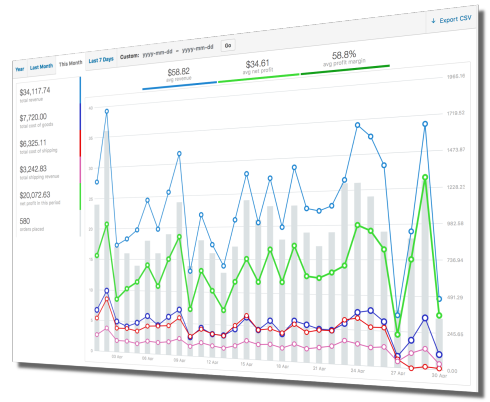 Click on an image thumbnail below to expand
Cost of Goods
 Report on Cost of Goods associated with your WooCommerce Products! Accurately account for what you spend on your products in association to each order. Don't already keep track of your cost of goods? If you buy this plugin, and want to use our Cost of Goods for WooCommerce upgrade your license to the Business Bundle Pack!
Cost of Shipping
Track what you spend on shipping your products to your customers. With WooCommerce Net Profit, you have powerful reporting tools to help optimize your shipping pricing structures! Pick up your FREE download of our WooCommerce Cost of Shipping plugin to start finding where your hidden costs are!
Net Profit Report
Seamlessly integrated, this plugin extends the functionality already seen in the WooCommerce admin panel reports with a new tab called "Net Profit". Through this tool, quickly and easily be able to see your daily margins and your true operating costs. No more having to solely rely on your accounting system!
Profit Margins
Quickly see analytics with displayed averages, such as profit margins, revenue per order, and net profit per order. Easily see your trends over time with the intuitive reports included with this plugin.
Integrations
This plugin was developed to solve a business need, and as such it was built with other tools in mind. Some plugins extend the capability of Net Profit, found in the section below.
New Reports
New reports are being developed to expand the analytics you can get from this data. From a table view, to a detailed order view. Stay tuned to receive updates coming soon!
Get WooCommerce Net Profit and upgrade your license to bundle and save up to 75% on Cost of Goods for WooCommerce!
Unlimited Site Licenses
$250
License is for 12 months of support and updates
Is WooCommerce Net Profit compatible with WooCommerce version 4.8?
Yes! Not only that, but it is tested up to date with WordPress 5.6!
Is this plugin Gutenberg ready?
Yes! WooCommerce Net Profit, along with all of our other products are developed on the most up to date and pre-release WordPress and WooCommerce environments to ensure we are working with anything coming soon. We also take great care to study and help where we can with what the future of WordPress and WooCommerce hold!
Do you support USPS, UPS or Fedex?
Whether you are using USPS, UPS or Fedex, we read all rates that you are charged via the plugin WooCommerce ShipStation Integration to automatically read in the cost of shipping and saves it to your WooCommerce Order meta data. Otherwise, you currently have the option to manually enter the cost of shipping on the order.
What integrations are there?
Are there going to be other reports or integrations?
Yes! This is a constantly evolving plugin, and with your purchase of this plugin, you will get a year of updates and support! We are currently exploring integrations with other shipping platforms, and new reports to help analyze your stores profits to help you make more informed business decisions!
How do I get Cost of Goods if I buy this plugin?
If you decide to buy one of the plugins before the other, you can find the upgrade paths for each license in your orders page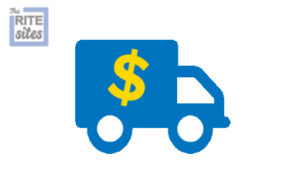 Explore more of your business's true operating costs with this FREE plugin to track your cost of shipping!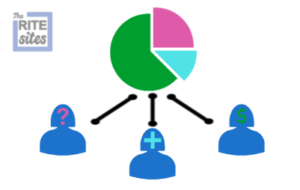 Get useful customer reports and track spending habits of different types of customers!